ENDOCANNABINOID SYSTEM (ECS)
What is it and how does it work?
The human body is a complex and intricate system, constantly working to maintain balance and harmony within. One of the key players in this delicate equilibrium is the endocannabinoid system (ECS).

While often overlooked or misunderstood, the ECS plays a vital role in regulating various physiological processes, including :
+ mood
+ sleep
+ appetite
+ immune response

In this article, we will delve into the fascinating world of the ECS, exploring its functions, components, the potential benefits it holds as well as the way it interacts with CBD.
1. DISCOVERY OF THE ENDOCANNABINOID SYSTEM (ECS)
The Endocannabinoid System (ECS) was fully discovered in the 1980s as scientists were studying the effects of cannabis on the body. Prior to that, in 1964, Raphael Mechoulam and his team had already successfully isolated and identified THC, the primary psychoactive compound in cannabis, which allowed further investigations into the physiological effects of cannabinoids.

In 1981, the first cannabinoid receptor, CB1, was discovered within the brain of a laboratory rat, indicating therefore the existence of a receptor system specifically designed to interact with cannabinoids. This led to the understanding that the body of every mammal produces its own cannabinoids, known as endocannabinoids. These are essential for maintaining internal stability and balance, ensuring optimal functioning of biological systems despite external changes or fluctuations also known as homeostasis.
The discovery of the ECS revolutionized our understanding of human physiology and opened doors to exploring the therapeutic potential of cannabinoids for various health conditions and overall well-being.
2. MAIN COMPOUNDS & FUNCTIONS
The Endocannabinoid System (ECS) consists of three key components: endocannabinoids, receptors (CB1 and CB2), and enzymes. Endocannabinoids, such as anandamide, are naturally produced molecules that act as signaling messengers.

They bind to cannabinoid receptors located throughout the body, influencing processes like pain perception, mood, appetite, immune response, and inflammation.

Enzymes within the ECS, break down endocannabinoids once their function is fulfilled, ensuring precise regulation and maintaining balance in the body. This intricate interplay between endocannabinoids, receptors, and enzymes forms the foundation of the ECS and its role in regulating physiological functions.
The receptors found are the CB1 receptors, predominantly present in the central nervous system, and CB2 receptors, primarily found in peripheral organs and immune cells.
3. THE ROLE OF THE ENDOCANNABINOID SYSTEM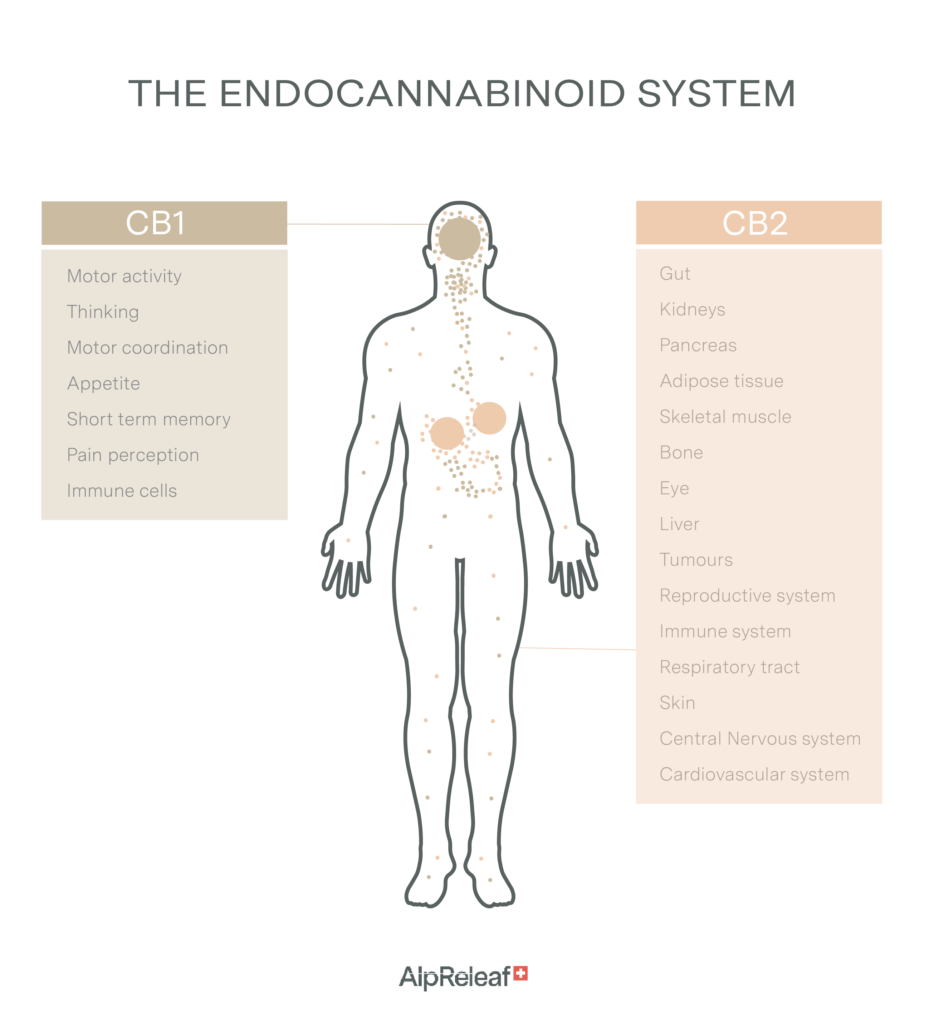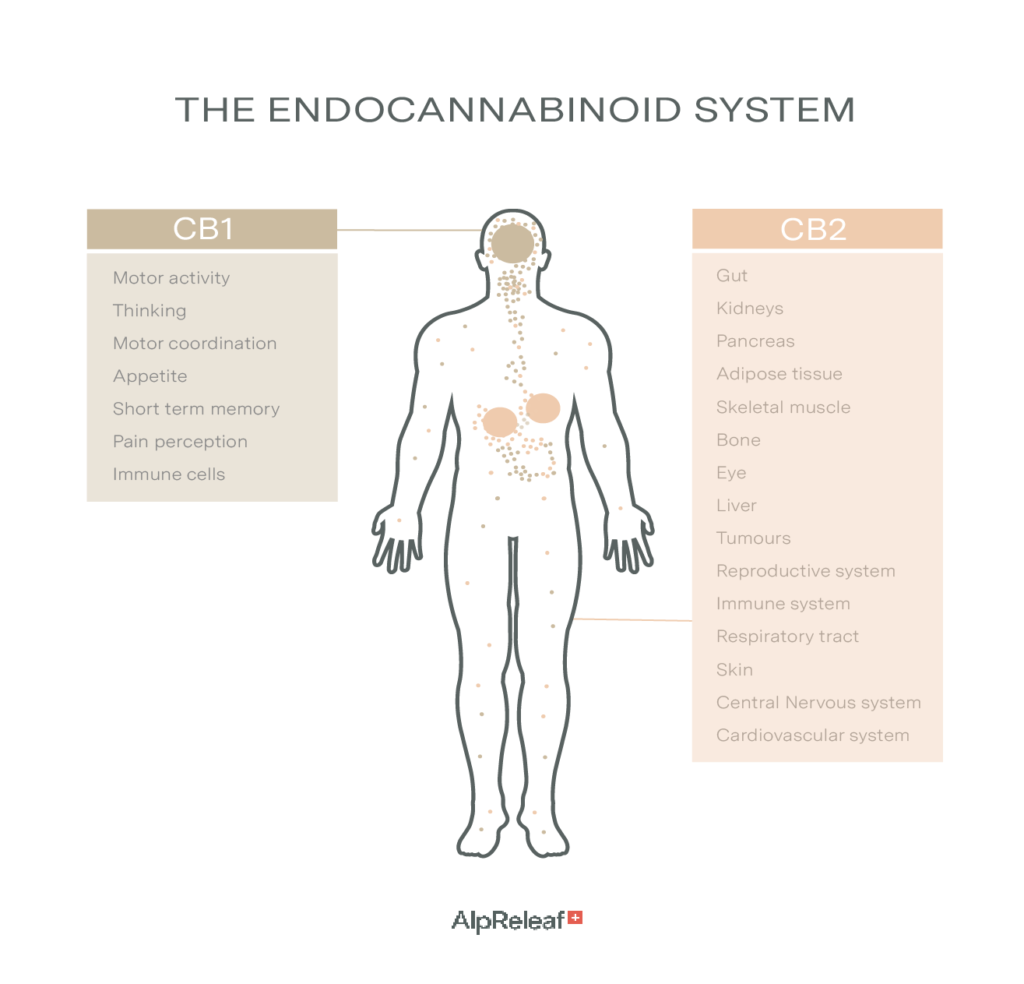 Understanding the role of the ECS in these aspects of health and wellness has led to increasing interest in utilizing cannabinoids, such as CBD, to support and optimize ECS functioning.
4. HOW CBD INTERACTS WITH THE ENDOCANNABINOID SYSTEM?
Cannabinoids in general interact with our ECS and can be divided into 2 categories:

+ Endocannabinoids - cannabinoids naturally produced by our body
+ Phytocannabinoids - cannabinoids such as CBD that can be found in plants. Hemp in particular.

CBD (cannabidiol), a non-psychoactive compound found in hemp, has gained significant attention for its potential positive effects.

By interacting with the ECS, CBD may modulate the activity of cannabinoid receptors and promote balance within the system. CBD is also known for its anti-inflammatory properties, which can help reduce inflammation in various tissues and organs regulated by the ECS.

In short, the Endocannabinoid system holds significant potential in promoting vitality, health, and harmony within our lives. By regulating our body's biological processes, the ECS ensures our overall well-being and understanding and supporting it through various means, such as lifestyle choices and potential cannabinoid supplementation, can contribute to a balanced internal environment and enhance our body's natural processes. The ECS holds significant potential in promoting vitality, health, and harmony within our lives.
READ MORE ARTICLES LIKE THIS
Subscribe to our newsletter